BUDANG AND FRIENDS is a one shot independent komik created by ~Raykosen and ~AngelsTale. Debuted in Toycon of July 2007. It was first published under Seraphic Assassins but the rights were transferred to Revel Circle.
"Budang is not a gibberish word. Follow the paw prints of this cute cuddly cat and his misadventure."'
It revolves in the story of a very adorable white cat with black ears, paws and tail in the hands of his three masters. He is called, Budang! These masters are kids age 4 - 5 namely: Bonjing, Bek Bek and Bogart. They are the brats who enjoy making Budang's life miserable. It is about the clashes of Budang with his three friends. Well, friends
CharactersEdit
Main Cast
Edit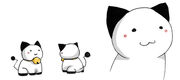 Budang - An adorable feline who later became a popular iconic celebrity in Philippines.
Bonjing - A blonde chinky eyed boy who keeps a lunch box with him filled with expired and spoiled food. Always wears Red. His character is inspired from ~Raykosen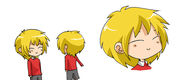 Bek Bek - A sadistic girl with glasses who loves balding, destroying her dolls. Always wears Yellow. Her character is inspired from ~AngelsTale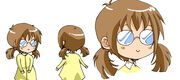 Bogart - A boy with glasses who loves turning his test papers into paper airplanes because they are filled with X marks. Always wears Blue or Black. His character is inspired from ~blackarcadia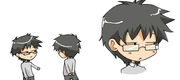 Supporting Cast
Edit
Mr. Yoso - Budang's translator. Can understand Feline laguage.
Ms. Chuvanessa Eklavoo - a hostess of a TV show and a popular commercial, idol and a star.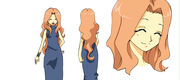 Mister Talent Scout - discovered Budang and made him into a superstar cat.
Budang and Friends won the grand prize of Toycon's Inter School Comic Creation Contest in 2007.
Best of Benilde 2008 - Recognition given to the Benildean creators of Budang and Friends.
Raykosen's Gallery - Ray Magbanua's Creator community gallery.
AngelsTale Gallery - Ellie Licuanan's Creator community gallery.
Revel Circle Gallery - Community group gallery.
Budang Flash Comic - Available in Filipino, English and Japanese language.
Best of Benilde 2008 PDF - Best viewed with the latest Adobe Acrobat installed.
De La Salle - College of Sain Benilde Best of Benilde Recognition
Best of Benilde 2008 Feature in Multiply