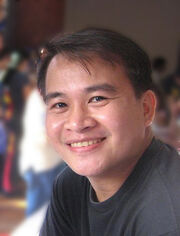 GIO PAREDES graduated a degree of Bachelor of Science in Mathematics major in Computer Programming from Polytechnic University of the Philippines in May, 1995. He supposed to take up Mechanical Engineering, but he later on fell in love with computer programming instead. When he was a young boy, growing up in the 80s, his father would buy him Pilipino Funny Komiks and Ninja Komiks every week. He has many fun memories of characters such as Matsutsu and Bardagol of Planet Opdi Eyps.Superkat, Superdog, the fried chicken-loving Niknok and his Lola, Mahimud Ali and his half-human half-carabao son Kalatao.

But it was Edmund Berganio (his classmate in College) that showed him all about the western comics, not only as a comic book fans perspective but also looking at the comics creative team behind it. He was exposed to awesome artwork of the likes of Jim Lee, Marc Silvestri, Dale Keown, Ron Lim and Whilce Portacio. He then dreamed of becoming one of those great artists that he admires.

In 2000, he enrolled in a comic book creating school "LEARN", founded by the famous Wetworks creator Whilce Portacio. In that school, he first met a long time local comic book artist Gilbert Monsanto.

In June 2007, he released his very first comic book ever, Kalayaan #1. This was possible through the help of Reno Maniquis and Gerry Alanguilan. These were the two persons he often emails and asks about self publishing your own comics.

In July of 2008, Gio heed the call of Gilbert Monsanto to become a member of Bayan Knights, a group of comics creator featuring their own original characters in one comic book. From then on, he has become one of the point man of the group.

At present, he is working as computer programmer / analyst in a company in Ortigas Center. And at the same time, he is still busy with his Kalayaan comics series that he continues to self-publish.
External Links :