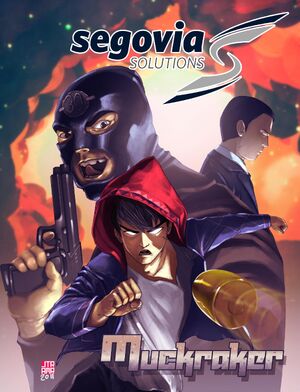 Segovia Solutions is a small print comics series written by Jerald Uy with rotating artworks from Jether Amar, Cristine Manasan and Val Calma. The series centers on a call center's attempt to provide superhuman solutions amid back-to-back tragedies in the Philippines in the late 2000s.
It was featured in Saksi on GMA 7 , News to Go on GMA News TV 11 and its website for using the superhero genre as commentary to the Maguindanao Massacre in 2009.
Issue DescriptionEdit
#1. "After Maguindanao"
It's all systems go for the Philippines' superhuman call center, Segovia Solutions! First task at hand: Provide technical support to the Muckraker, protector of journalists under siege. By Jerald Uy and Jether Amar.
#2. "Souls of Sibuyan"
A call center agent works overtime as the Rainmaker, the country's defender against storms gets diverted to a crisis in Sibuyan, Romblon, the site of the ill-fated M/V Princess of the Stars. By Jerald Uy and Cristine Manasan.
#3. "The People of Lower Marikina"
Who are the so-called "Lamang-Lupa" and why are they attacking agents of the Segovia Solutions? By Jerald Uy and Val Calma.