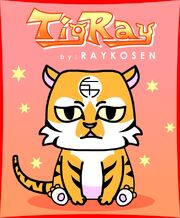 Tigray is an ongoing online komik strip created by Raykosen. The serial is being hosted and published by Manga Magazine since February 8, 2012. It is published in a five panel format with a 1 page per week schedule.
Schedule: Weekly every Wednesdays 8PM PH Time.

Tigray and Facts
Edit
Tigray is a collection of adventures and misadventures of the chibi tiger.

It is a fictional character representing the creator, Raykosen. It is an orange tiger with a Raykosen outline logo on its forehead.
The character was designed in January 1, 2010 which was also the year of the Tiger. Ray was a born as a Fire Tiger in Chinese Zodiac.
The purpose was to create a mascot to represent Raykosen's activities as a Komik Artist. The changes were made on its debut online.
External Links
Edit
Tigray in Manga Magazine (English)
Tigray in Manga Magazine (Japanese)